To:

President Biden & Madam Vice President Harris & The Squad.
Corrupt DA's & Dirty Cops Need Felony Charges For Making Up False Charges On Black Americans.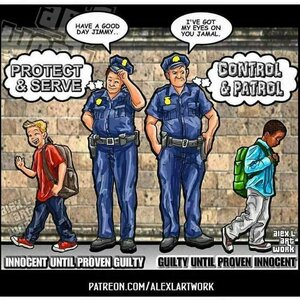 **STOP ALL COLOR OF LAW VIOLATIONS NOW** We The People Need Racist Cops To Stop Arresting Black Americans (1st & Foremost & All Other Nationalites) With Charges That Aren't True Or Even Prosecutable (There False Charges Or Fabricated Charges And Stacked Up So One Sticks); Just To Get Guilty Pleas/Convictions & Make It Impossible For The Average Citizen To Afford A Legitimate Attorney Or Obtain Or Keep A Good Job. Cops & Prosecutors Must Be Held Accountable & Charged With A Felony For Intentionally Stacking Up False & Fabricated Charges(Just To Arrest Us). The Color of Law Is Being Abused Nationwide In The USA. (Stacking Charges Automatically Raises The Price For The Average Citizen To Afford A Decent Lawyer--It's A Bully Tactic & Intimidation To Offer Illegal Plea Deals(To Force Defendants To Accept The Plea Deal Even When Their Innocent Of The False Charges); To Generate Money ($$) Not Justice & To Mass Incarcerate Black & Brown Citizes & Destroy Countless Families With No Regard For Human Rights Or The United States Constitution..... We Gotta Create The #PoliceAccountabilityAct (Abuse of Power Must Be Checked Or We Will Never Get True Justice) Learn About The
#GuiltyPleaProblem (Black People & Others Are Being Forced To Accept Dirty Plea Deals Nationwide Because They Can't Afford A Good Attorney & Get Threatened With Lengthy Sentences If The Case Goes To Trial & You Get Convicted).. Check Out These Hashtags On Twitter #JusticeCantWait & #FalseChargesAreHateCrimes #GetOnCode #JusticeGoingViral #ProsecutorialMisconduct #TerroristCantBeCops
Why is this important?
To Many Black Men, Women, Children(And Every Other Nationality) Are Being Railroaded By False/Fabricated Or Excessive Charges & Racist Cops & Racist Prosecutors Aren't Going To Stop Until They Get Felonies For The Crimes They Are Committing; When They Get Held Accountable For Violating The Color Of Law(A Civil Rights Violation) Or The KKkAct Of 1871, Then Black Americans Won't Be Victimized By The Judicial System Anymore & The Scales Will Be Better-Balanced. It's Important For The Future Of All Black Americans, Criminal Records Keep Us Jobless/Underpaid, Homeless, Depressed & Hopeless & Stuck In This Racist System To Be Incarcerated Over & Over Again! A Prime example: I Called Stafford County's Sheriff's Department For Help & Got A Felony For A False & Fabricated Charge/My Neighbor Never Said Happened At All On 2/2015. But Police & Prosecuturial Misconduct Continues To Be Widespread All Across Amerikkka-Because My YouTube Video With My Neighbor Stating That A Deputy Came That Night But He Didn't Find Anything & He's Not Aware of Anything Got Erased From YouTube [Which Is Obstruction Of Justice]; And My Stafford County Lawyer, The Stafford NAACP & Internal Affairs Saw The Video & The Stafford NAACP Attended A Meeting With Me & My Pastor With Stafford Internal Affairs.[My Lawyer Quit After 4 Outta 7 Charges Got Dropped Against Me Because I Wanted To Expose The Police Misconduct) ; Watch The Videos Below About Police Misconduct & Check Out: #PoliceMisconduct #IneffectiveCounsel & #MaliciousProsecution On Twitter. These Are #The3StrikesAgainstUs & The #GuiltyPleaProblem Which Is Being Abused Nationwide To Ensure We Have Criminal Records.. #JusticeCantWait #AdmitItAmerica Because I'm Still Trying To Overturn The 3 #FalseCharges I Got Convicted Of Because My Lawyer(s) (I had 3 County Attorney's) Wouldn't Fight Corruption Because They Live & Make Their Living In Stafford County.. #XONR8
How it will be delivered