To:

Lt. Gov. Delbert Hosemann
Jackson is NOT for the Taking!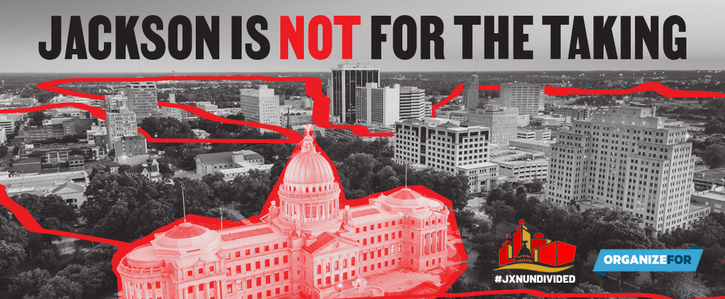 Recently, the Mississippi House of Representatives voted to take away the rights of Jackson residents to elect their own judges and district attorney, as every other resident of Mississippi does.
House Bill 1020, also known as the Capitol Complex Improvement District bill, passed with no consultation or consideration from the greater Jackson community, the residents of Jackson; the state senators and state representatives who represent Jackson, the judges of the Hinds County courts and Jackson's mayor and City Council. It's a bad bill that Lt. Gov. Delbert Hosemann and the state Senate must reject.
In effect, HB 1020 creates a state-occupied, extrajudicial territory controlled entirely by white state officials in the heart of Mississippi's majority-Black capital city and its most populous and majority-Black county. And it would make Jacksonians pay for it by taking 18% of Jackson's sales tax revenue.
This bill, along with several others, is nothing more than an attempted takeover of the state's largest city. One bill would take control of our water system, and nearly $1 billion in federal funding, through a court-appointed monitor to oversee repairs and operations. Another bill would prevent the city from changing its water billing system to an equitable and sustainable model suggested by the court monitor. Yet another would expand the jurisdiction of the Capitol Police force, which has already unjustly shot at least six people and killed one within the CCID in less than a year.
Together, we can stop this! Our voices deserve to be heard!
Safety. Security. Dignity. Justice.
Rights that should be afforded to all of us.
Join us in letting Lt. Gov. Delbert Hosemann know that Jackson is not for the taking and that we demand that he rejects these dangerous bills.
Our city. Our voice. Our choice.
Why is this important?
A People United Will Never Be Defeated!
Democracy belongs to the people. All of the people.
As history has taught us, what happens in Mississippi has the power to influence what happens everywhere else in the world.
This petition has been created to serve as the rallying cry of the people of Jackson and the greater Hinds County area.
Hinds County is Mississippi's most populous county, and Jackson is the state's largest and most populous city. Both Hinds County and Jackson are majority Black and led by Black majorities.
Should it be enacted into law, HB 1020 would:
●Require more than 18% of Jackson's normal allocation of sales tax revenue be given to the Capitol Complex Improvement District, or CCID.
●Enlarge the CCID area and thrust it deep into the purely residential area of Northeast Jackson, miles from downtown, where the Capitol Police —who have shot or killed several Black people recently — have no right or reason to be.
●Strip from duly-elected judges in Hinds County the right to preside over ANY cases brought against the State of Mississippi and the CCID. Only judges appointed by Mississippi's white chief justice of the Mississippi Supreme Court will have the power to hear and make decisions on cases against the Capitol Police (CCID police), the State of Mississippi and its agencies.
●Strip Hinds County residents of their right:
○ to have civil and criminal cases adjudged by their duly-elected Hinds County judges, the majority of whom are Black.
○ to be prosecuted according to the prosecutorial decisions of their duly-elected district attorney, who is Black.
●Replace the political voice and electoral power of hundreds of thousands of Hinds County residents, 70% of whom are Black, and give this voting and decision- making power to three white state-level officials.
What is happening in Jackson, Mississippi, is ruthless.
It is racist.
It is dangerously anti-democratic.
And it must stop!