To:

Judicial Performance Committee & Supreme Court
DISBARMENT OF JUDGE DEBRA BLACKWELL IMMORAL UNETHICAL RULINGS...JUSTICE FOR CHRISTOPHER RANDALL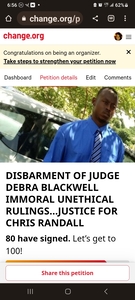 Justice should be fair to everyone not based off the color of one's skin. Also absolutely no one should have to face an unfair trial just because a Judge is pushing for Pre-Election favoritism.
Why is this important?
Too many black men are being railroaded in the Judicial System because of corrupt law enforcement and certain racist judges.
DISBARMENT OF JUDGE DEBRA BLACKWELL IMMORAL UNETHICAL RULINGS...JUSTICE FOR CHRIS RANDALL
Started
April 5, 2023
On February 23rd, 2023, I along with my family witnessed Judge Debra Blackwell handout a Life sentence plus 20 plus 5 years to my son, Christopher Isaac Randall. My son was charged with Murder despite it being justifiable Self-defense. My son's ex girlfriend LaRhonda Ware called my son to meet her at her mother's home but already had a gentleman waiting in the dark for my son. The victim reached for his gun that was fully loaded with a bullet in the chamber and my son defended himself by shooting the victim before he had a chance to shoot and kill him. The gun was put back in the deceased's waistband before law enforcement and paramedics arrived. The Judge Debra Blackwell did not allow my son's paid Attorney to argue Self-defense at all. During the trial, it was discovered that the Judge Debra Blackwell, the Prosecutor Shameca Collins and State Attorney, Busby ALL were responsible for jury selection...that were ALL picked just 3-4 hours on the actual day of the trial. Juror#15 was closely related to the deceased and the Defendant. Judge Debra Blackwell verbally stated that it did not matter, in regards to the kinship between the juror and the deceased. My son stayed incarcerated for nearly 4 years at Adams County Sheriff office where the Sheriff Travis Patten, former Detective Stanley Searcy---now the Jail Administrator along with DA Shameca Collins collaborated a plot to railroad my son thru the Judicial System. The State used a Medical Examiner by the name of Mark LeVaughn whose under investigation and had been placed on Administrative leave from Jackson crime lab to testify from an unknown location via video screen in the courtroom. There is speculation that the DA mailed/faxed evidence they gathered to the Medical examiner to align and collaborate the little so called evidence they claim to have had so LeVaughn could know what to say during Q & A during the trial. On March 29th, my son appeared for a hearing for a motion to have a new trial based on the fact that one of the Jurors was related to the deceased. Judge Debra Blackwell stated it did not matter and the sentencing was and still is being upheld. This particular judge has railroaded so many young black men while allowing rapists of underage kids to go free; all because of certain families dumping money into her PRE-ELECTION campaign. I am asking that anyone who has been railroaded by Judge Debra Blackwell, Sheriff Travis Patten, DA Shameca Collins to please sign this petition while I continue to make efforts to exonerate my son of all charges; as he only acted in self-defense. This was a retaliatory act on behalf of the Judicial system for my son NOT taking a PLEA BARGAIN; as well as his mother, Shaunta Randall writing higher-ups about all the wrong and malfeasance of judicial practices being exercised on all levels towards my son before his trial even began. I, Shaunta Randall faced the same scrutiny and injustice when his 16 year old brother, Jessie Elbert Taylor Jr. was murdered in 2014. My son, Christopher Isaac Randall, had several court appearances with an appointed attorney before his new attorney was hired. The old attorney which was the State's Public Defender did ABSOLUTELY NOTHING to gather evidence supporting my son's justifiable confession of self defense. My son has never been a trouble maker nor has any kind of criminal history. The Sheriff even setup a plot by using a jailer : also the mule for bringing Contraband into the County jail__ to add another charge to my son in November of 2022; 3 months before his actual trial in February of 2023. The Jurors were selected the exact SAME day the trial began on 02/21/23; might I add. I will not stop until all involved in this Judicial Performance of Misconduct and Malice be removed from their positions.