To:

Atlanta Police Chief, Darin Schierbaum
Atlanta Police Murdered My 62yo Father: Tell APD to Release the Body Cam Footage Now!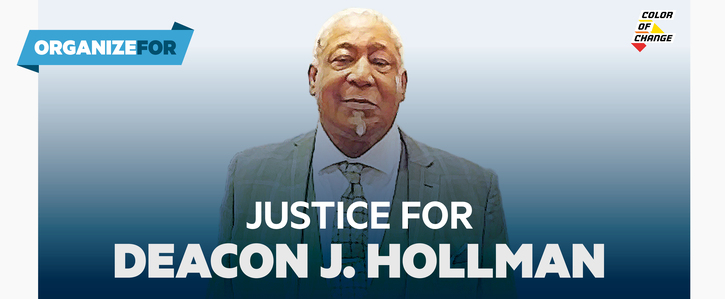 On August 10, 2023, my dad, Deacon Johnny Hollman Sr., 62, was killed by Officer Kiran Kimbrough of the Atlanta Police Department during what should have been a routine traffic stop. My family is now demanding transparency and accountability for my father's senseless murder. Sign the petition to join my family in demanding Atlanta Police Chief, Darin Schierbaum, release the police body camera footage now!
Why is this important?
My dad just finished Bible study and left my house to take his wife to dinner when he was involved in a minor car accident. He called 911 and waited over an hour for police to arrive. When Officer Kiran Kimbrough arrived, he decided that my dad was at fault and issued him a traffic ticket. My father asked to see a sergeant, but Office Kimbrough ignored him and told him that he would take him to jail, if he didn't sign the ticket.
My father called me moments before Officer Kimbrough grabbed him, took him to the ground, and began Tasing him. I jumped in my car and drove to the location of the incident. I heard my father being murdered over the phone.
Although my dad told the officer that he would sign the ticket, he was still wrested to the ground and tased, repeatedly. He told the officer, "I can't breathe", as many as 16 times. Ruthlessly, his pleas were ignored and Officer Kimbrough refused my father medical attention.
Under the supervision of the Atlanta City Attorney's Office, my family and our legal team were shown portions of Officer Kimbrough's body cam footage. We saw a tow truck driver help Officer Kimbrough handcuff my dad and turn him on the ground onto his stomach. We heard the tow truck driver say, "I forgot what it was like." During the video viewing, we also saw the tow truck driver's knee across my dad's neck.
When I arrived at the scene, my father was unresponsive. He later was pronounced dead at Grady Memorial Hospital.
My dad's inhuman and illegal treatment was all captured on Officer Kimbrough's body camera, but the Atlanta Police Chief Darin Schierbaum still has not released the body cam video footage to the public. Officer Kimbrough's body camera footage must be released so those responsible can be held accountable and we get justice for my dad's senseless murder.