To:

Santander Bank
Tell Santander to Stop their racist lending practices!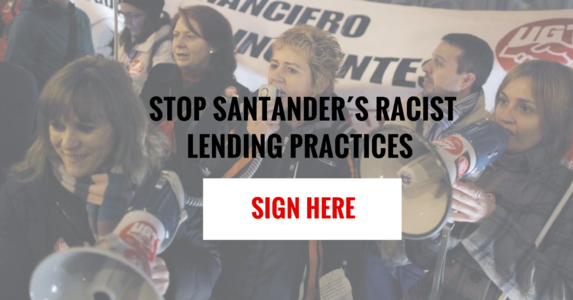 Santander has to stop their racist lending practices that harm elderly consumers and communities of color.
Why is this important?
Santander Consumer, the largest and most recognized name in subprime auto lending, is the poster child for predatory practices in the industry.

Here's why—Santander Consumer is actively preying on vulnerable elderly consumers and people of color with wildly high fees and interest rates. Their laundry list of fines, violations, and lawsuits proves it:
- They were recently subpoenaed for racist and discriminatory interest rate markups related to auto lending and securitizations by the Department of Justice (DoJ) and the Consumer Financial Protection Bureau (CFPB).
- Twenty-eight state attorneys general are also investigating Santander Consumer for predatory and discriminatory practices in auto lending and securitizations.
- They recently paid over $40 million in fines and restitution to settle lawsuits over their illegal lending, collection, and repossession practices.
Predatory auto loan practices disproportionately affect communities of color, deepening poverty levels, limiting access to credit and perpetuating centuries of inequality. People of color are more often given misleading information and African Americans and Latinos are nearly twice as likely to be sold unnecessary add-on products than white consumers. Predatory loans increase the chance of loan delinquency and auto repossession, which have serious consequences for the financial health of communities of color.
Even former Santander workers have said that the they've seen "unbelievable" interest rates and business practices that target and prey on communities of color with unaffordable loans with toxic fees. The trend is clear. Santander Consumer lending practices aren't just bad business, they're racist and immoral.

Join us in demanding Santander stop their racist lending practices and sign our petition.