To:

East Carolina University Chancellor Cecil Staton
Stand up for students protesting racial injustice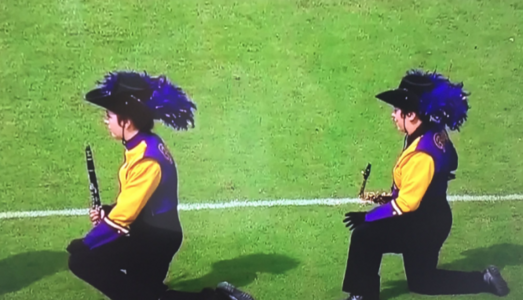 Allow East Carolina University' marching band to continue taking a knee during the Star's Bangled Banner.
Why is this important?
I am a proud Pirate. My professors at East Carolina University challenged me to think critically about the world and helped me feel like I could have a real impact. It was at ECU where I learned that my voice is powerful. ECU is why I have a successful and fulfilling career at the intersection of politics, activism, and social change. Usually, I represent Pirate Nation with pride, but right now, I am disappointed in my alma mater's decision to crack down on protests from the university's marching band.
Last Saturday, several members of the band took a knee during the Star's Bangled Banner in peaceful demonstration against police brutality and racial injustice. As a former student activist at ECU, I couldn't have been more proud to see these young people carrying on the tradition of peaceful protest at my alma mater. These young people are carrying on the proud legacy of agitating for social change on ECU's campus. 
In 1969, Black students were fed up with a hostile racial climate on campus and had a tense confrontation with then President Leo Jenkins. These brave students successfully got the university to stop playing Dixie and waving Confederate flags at games and to hire more Black faculty in the name of campus integration. No one would disagree that these brave people standing up for what they believe in made the university a better place. Today as students around the country are ridiculed or worse for speaking up on issues they are care about, we need to show our them that we support their right to protest. 
When I read ECU Chancellor Cecil Staton's statement on the protest, I was elated because it underscored the power of civil discourse and the importance of believing in something bigger than yourself, two values I learned during my time at East Carolina: 
"While we acknowledge and understand the disappointment felt by many Pirate fans in response to the events at the beginning of today's football game, we urge all Pirate students, supporters and participants to act with respect for each other's views. Civil discourse is an East Carolina value and part of our ECU creed."
Sadly, this feeling only lasted a day because ECU Chancellor Staton reversed his decision saying that further protests "would not be tolerated:"
"College is about learning, and it is our expectation that the members of the Marching Pirates will learn from this experience and fulfill their responsibilities. While we affirm the right of all our students to express their opinions, protests of this nature by the Marching Pirates will not be tolerated moving forward."
To make matters worse, it seems that the racial climate on campus has gone from simmering to a rapid boil. Many students felt threatened when a professor responded by promising to carry a gun around campus to demonstrate her Second Amendment rights, seemingly forgetting that doing so is against the law. A racial slur was found written in the library. In a climate where racial tensions are escalating, trying to muzzle students who are clearly trying to start a dialogue on the issue is not the right move.
Not talking about it won't make it go away.
As a Black woman, I've felt the sting of racial injustice on campus at ECU. I'll never forget the night a pack of drunk guys shouted a racial slur at me out of a moving car. That night, as hot tears stained my face, I made a silent promise to myself that I'd never live in the South after graduation; I just couldn't take it anymore. What's worse is that nothing has changed; knowing that students are still having to putting up with this same racial animosity on campus that I did ten years earlier feels like a knife in the heart. 
This is the wrong message to be sending to Pirate Nation. These students have a Constitutionally protected right to freedom of expression. This freedom doesn't end when students put on their uniform. If it wasn't for my time engaging in activism during my time at East Carolina, I wouldn't be where I am today. Chancellor Staton should give these students that same opportunity.