To:

State Attorney Katherine Fernandez Rundle
Justice for Charles Kinsey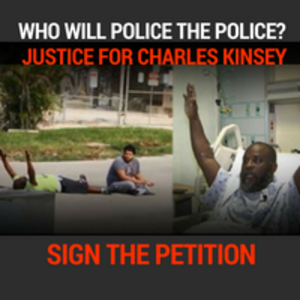 We, the concerned citizens and constituents of North Miami, the greater Miami-Dade County at-large, and all concerned citizens of the United States of America demand the immediate termination of the police officer responsible for Mr. Kinsey's injury. In addition to the immediate termination of the officer, we request that the State Attorney's Office to bring criminal charges against said officer for breach of duty in violating the police department's use of force policy.
Why is this important?
It has been since 1986 that Miami-Dade has held an officer accountable for violating the police department's use of force policy.
The failure to terminate and criminally prosecute the officer sends a troublesome message to Mr. Kinsey and the general public of whom the department has taken the oath to protect and serve. The real problem facing our communities is that we undergo trauma when officers violate reputable policies and do not suffer reasonable consequences.
As taxpayers and concerned citizens, we want justice and not rhetoric.
CLICK HERE TO WATCH THE CALL TO ACTION FROM CHARLES KINSEY:
https://youtu.be/itIv6hlHzT4
How it will be delivered
We will be delivering the petition to Katherine Fernandez Rundle's office Friday August 12, 2016.