To:

Mayor Latoya Cantrell; New Orleans Police Department Superintendent Shaun Ferguson
Health Not Handcuffs: Stop Unnecessary Arrests in New Orleans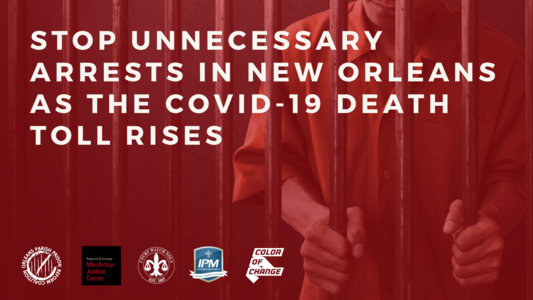 As New Orleans endures a devastating toll from the COVID-19 virus, we urge you to reduce the risk of contagion for New Orleanians by directing NOPD officers to cease arrests for non-violent, non-domestic charges and issue summonses instead.
All New Orleanians are being put at a higher risk of contracting the COVID-19 virus as a result of unnecessary physical interactions as New Orleans Police Department (NOPD) officers arrest community members for non-violent, low-level offenses. You have the power to curb the death toll in New Orleans by protecting public servants as well as community members inside and outside of the jail with an arrest policy that considers the global health crisis we're living through.
Why is this important?
As New Orleans becomes the new epicenter of the COVID-19 virus, our first priority must be to protect community members inside and outside of the jail and public servants from contracting the virus. In jails and prisons, social distancing and quarantine is impossible, and healthcare is insufficient at best. An outbreak of COVID-19 in our jails and prisons would mean certain death for many of our community members inside, for jail staff, and for healthcare workers in our carceral system. As of April 21, 56 people in the Orleans Parish jail have tested positive for COVID-19, while 47 Sheriff's Office employees and 11 medical staffers have tested positive.
As staff and community members filter in and out of the local jail, they come in contact with their families and neighbors--no matter how effectively we socially distance ourselves from one another. An outbreak in our jails endangers everyone in our community.
Since this outbreak began, we have closely monitored which arrests have received bail hearings. So far, the data is clear: NOPD is still making custodial arrests for non-violent crimes. Between March 19 to April 17, 35% of people who were booked and required to receive a bail hearing were arrested for crimes that don't pose a risk to the public. Regular updates are posted to Court Watch NOLA's Twitter on Fridays at 5:30 PM CST.
Minimizing the number of people introduced to the jail is crucial to slowing the spread of COVID-19 in our city, because every new person sent to the jail leads to an almost certain additional exposure to the virus that could have been avoided. Unnecessary arrests mean unnecessary deaths.
Mayor LaToya Cantrell and NOPD Superintendent Shaun Ferguson have the power to reduce the risk of contagion by ordering an arrest protocol to stop locking New Orleanians up for low-level and non-violent offenses where there is no sign of clear and present danger of imminent physical harm.
NOPD officers must utilize summonses in lieu of custodial arrests for nonviolent offenses. Sign our petition and demand Mayor Cantrell and Superintendent Ferguson change NOPD's arrest protocol and stop locking New Orleanians up for non-violent, non-domestic, non-sex offenses. When you sign this petition, an email will be automatically sent to select New Orleans city officials.
Thank you for continuing to fight for justice in the face of this global crisis.