To:

Governor Pete Ricketts, NDCS Director Scott Frakes
#Decarcerate NE: Prevent a COVID-19 Outbreak in Nebraska Jails & Prisons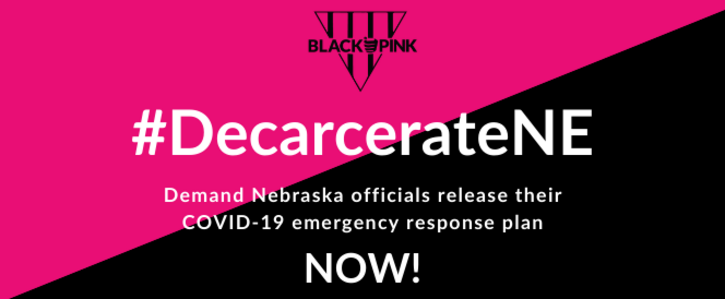 Governor Ricketts and Director Frakes must release an emergency response plan detailing their intentions to keep incarcerated Nebraskans safe during this pandemic.
Why is this important?
Incarcerated and detained Nebraskans are facing a high risk for a COVID-19 outbreak. Not only are these facilities operating above 150% capacity, but people live in unsanitary spaces. It is not a question of if COVID-19 will enter these facilities, but when.
"It doesn't matter what crime you committed. This pandemic is affecting everyone," Dominique Morgan, Executive Director of Black and Pink explains, "If you were selling a little bit of dope, it shouldn't be a death sentence. But that's what COVID-19 is. These people inside can't choose to social distance. They can't say, 'No, you can't touch my body and shake me down.' They don't get to decide who comes into their institutions. They have no autonomy over their body. Imagine going through this pandemic and the fear we have as a community. Now imagine having no power. Being Black. Being trans. You have to have empathy at this time."
Pain and violence are a virus themselves. Not only do they spread without urgent corrective action, but punishment replicates pain and violence. We have space for meeting people where they are at and for healing at home in our communities. We see them everyday. Maybe we give a smile or a nod. Put people in cages, isolated and separated from communities, and we lose their humanity. We forget they too are worthy of respect and love and life. They too have inherent value.
We recognize their value. That's why Black and Pink, along with 13 other Nebraska community organizations, joined in solidarity to demand clear and specific actions for Governor Ricketts and NDCS Director Frakes to immediately implement and reduce the impact of COVID-19 including:
1. Reducing the dangerous overcrowding conditions in NDCS facilities, including the immediate release of individuals at high risk of contracting COVID-19
2. Issuing a publicly accessible Crisis Management Plan, including accountability measures for handling an outbreak
3. Prioritizing the health and safety of currently incarcerated individuals by ensuring appropriate access to medication, prohibiting use of punitive processes, and prioritizing COVID-19 treatment at hospital settings NOT facility medical units/infirmaries.
The full text of the letter can be found here: https://drive.google.com/file/d/1J0sAfQIF57WJwJ5gHw__855VSa_X0uJ9/view?usp=sharing
Join us in demanding that state officials release their COVID-19 emergency response plan and share how they plan to protect the health of incarcerated Nebraskans during this health crisis! #DecarcerateNE #HealthNotHell
HELP US AMPLIFY:
Share this petition on Twitter (copy text): Join me and sign this petition to demand that @GovRicketts and @necorrections Director Frakes release their COVID-19 emergency response plan and take immediate action to protect incarcerated people! #DecarcerateNE #HealthNotHell https://bit.ly/2Uy7TA4
Share this petition on Facebook (copy text): I refuse to wait silently while state officials endanger the health and lives of incarcerated Nebraskans. Join me today and sign this petition to demand that Governor Ricketts and NDCS Director Frakes release their COVID-19 emergency response plan and take immediate action to protect incarcerated people! #DecarcerateNE #HealthNotHell https://bit.ly/2Uy7TA4