To:

USDA Secretary of Agriculture Tom Vilsack
RETURN NORTH CAROLINA FARM UNJUSTLY SEIZED BACK TO BLACK FARMER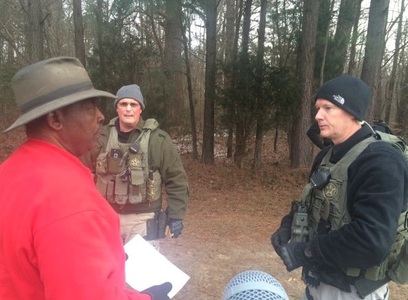 We understand the entire process that Farmer Eddie Wise endured with Farm Services Agency was and continues to be highly problematic and a potential threat to small and Black farmers everywhere. We, the undersigned, thus demand:
1. Return Farmer Eddie Wise and Dorothy Wise's farm to them immediately.
2. Halt all proceedings around the auctioning of their farm (scheduled for April of this year).
3. Conduct a FULL independent investigation to uncover how Mr. Wise's case escalated so rapidly and so unjustly and investigate how Mr. Wise was forcibly removed.
4. Ensure that all measures are taken to protect small farmers so no other farmer will be treated as violently, inhumanely and unjustly as Mr. Wise.
Why is this important?
We are very concerned what appears to be a glaring and very violent assault on small farmers, Black farmers, and the right to self-determination in this country, via the recent seizure of North Carolina Farmer Eddie Wise's land. On Wednesday, January 20, 2016, around 7:30 a.m., at least fourteen (14) Federal Marshals in full military gear with full-scale military guns drawn, along with several county sheriff officers, descended on the 106 acre farm in Nash County, NC, and forcibly escorted Eddie Wise and his wife, who was still in bed and suffers from a debilitating medical condition, out of their home and off the land that they have owned for more than 20 years.
Reportedly, farmer Eddie Wise had been working on his loan with Farm Service Agency (FSA) until Farm Services Agent Paula F. Nicholls and Mike Huskie took over his case. Not soon after, Mr. Wise's loan increased and sky rocketed to almost $60,000 more within only a month's span of time, thus lending to an escalated foreclosure process and, the seizure of property and an incredible number of subsequent questions and outrage from people all across the country.
Mr. Wise and his wife Dorothy have suffered the height of indignity and racist degradation. This process is highly problematic and we see this seizure as a major threat to family farms nationwide.
Not only did the Federal Marshals render Eddie and Dorothy immediately homeless and landless, they did not allow them to take any of their belongings except the clothes on their backs. They also insisted on "securing" every firearm legally owned by Mr. Wise. Mr. Wise was in fear of his life and the life of his wife. "I believe if I had shown one ounce of resistance, the Federal Marshals would have killed me. I actually believe that's what they came to do" said Mr. Wise, his eyes moist with tears.
Saving their land has been a long and exhaustive process for the Wise family. The ugliness of the one dimensional unfairness, racial characterization, and mental traps set for this family and thousands of other Black farmers by USDA, and a corrupt legal system, defy reason and logic. Black farmers are a racial minority and do not represent a large political power block, therefore they are unfairly treated like terrorized slave captives in their own country, a country they were vital in building.
MORE BACKGROUND ON FARMER EDDIE WISE:
1. In 1993 the Wises applied for a loan to purchase a 106-acre hog farm. Wise said that at first the FmHA (now FSA) County Loan Officer didn't let him know that the farm had been "earmarked for minority farmers." Then officials tried to reappraise the farm to increase the value, but the value actually dropped. Last, a White farmer who wanted the farm paid a Black woman to apply for him. She was one of the final two applicants whose names were drawn from a hat. "We won the draw," Wise said.
Wise continued to face resistance from the county loan office, which is now demanding that he provide a production history going back five years and a production plan for the new farm.
2. Eddie and Dorothy Wise raise hogs on 106 acres near Whitakers, in east-central North Carolina. Eddie is a fourth-generation hog farmer but the first to own a farm; his father and grandfather were sharecroppers. During a 20 plus career in the military, and as an ROTC instructor at Howard and Georgetown Universities, Eddie raised hogs in his spare time. It was his dream to return home to North Carolina and farm full-time. When he retired from the Army in 1991 at the age of 48, that's what he set out to do. Dorothy Wise grew up in Washington, D.C., but she too hoped to one day live on a farm. When she and Eddie met at Howard University in the 1980s and she discovered he was a farmer, it seemed that her wish had come true.
Still, it took the Wises five years, until 1996, to secure the loans they needed to buy their farm. They were repeatedly turned down by local government loan officers who, the Wises are convinced, did not want African-American farmers to succeed. It was only through determined effort and much research and legwork that the Wises were able to receive the financial help for which they qualified.
Prior to them being ordered off their property, the Wises had 250 hogs, which they raised from birth and would sell to a black-owned pork processor in the area. Eddie's lean pork, raised without hormones or antibiotics, is sold at a premium in area supermarkets. Finding such a market niche is the only way the Wises can compete with the much-larger farms that mass-produce hogs for the large meatpacking companies.
For the last 40 years American Black farmers have lived a hellish nightmare deliberately orchestrated by the USDA and its local Farmers Home Administration (FmHA – now the Farm Service Agency, FSA) offices to confiscate Black-owned land and homes. A review of the now historic Pigford v. Glickman Class Action by Black farmers will help one to understand the extremely vicious attack against black farmers and the USDA's own Civil Rights Action Team report, (CRAT February 1997). (For details on the Black Farmers Class Action, See https://www.blackfarmercase.com/Background.aspx or http://www.dcd.uscourts.gov/pigfordmonitor/index.htm).
We demand a full investigation, a halt to all land seizure and illegitimate farm sales and to return Eddie and Dorothy Wise's farm and property to them immediately.
For more information, contact [email protected].
-------------------------------
Check out BFAA on Facebook: https://www.facebook.com/BFAA.org/ and here: https://www.facebook.com/groups/106046796096003
To support Farmer Eddie Wise and Dorothy Wise: www.gofundme.com/39m8623g