To:

New Orleans City Council
Essential Workers, Essential Voices // Trabajadores Esenciales, Voces Esenciales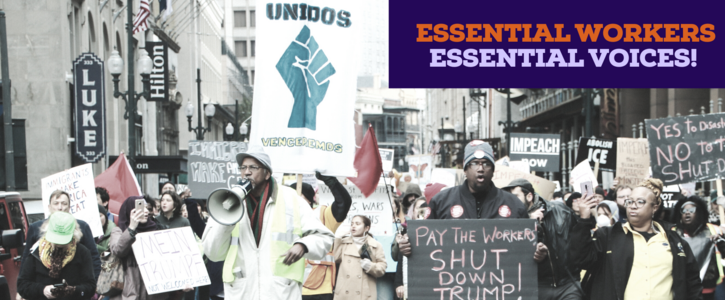 Over the past several months, the Workers' Center has held community meetings to educate and discuss the local American Rescue Plan funds available to New Orleans. We solicited ideas from attendees about how the money would be most impactful, both to support workers and our most marginalized, low-income residents.
Here are their recommendations:
1. Essential Worker Acknowledgment Fund – $45 million
Goal: To share significant immediate funds with all essential workers who deserve premium pay for putting themselves in harm's way during the pandemic. The rules for ARPA spending explicitly name premium pay for essential workers as one of only four eligible uses. We know from a decade worth of research that targeted monetary payments bring folks out of poverty, improve their well-being and health, and increase the likelihood of them finding and keeping a permanent, stable home and job. The Advance Childcare Credits in 2021 confirmed how vital direct payments could be to bring children and families out of poverty.
2. Language Access for All – $6 million over four years
Goal: For all residents, regardless of native language, to feel welcomed by, fully understand, and effectively participate in their city government's procedures, laws, meetings, and the democratic process. To increase the number of bilingual city staff, encourage language diversity among city workers, and educate city workers on language justice and its importance.
3. Access to Essential Resources Fund – $10 million
Goal A: To stabilize essential household needs like food since food banks and other food providers have often been overwhelmed with the number of requests since the beginning of the pandemic.
Goal B: To ensure that public transportation provides a reliable and accessible means to go to work from all areas of the city and does not create a barrier to job opportunities for low-income residents without personal transportation.
4. Local Labor Enforcement Initiative (Pilot) – $4 million from 2023-2026
Goal: To enforce existing ordinances related to city contractors and protect workers from work-related discrimination, exploitation, and retaliation with an investigative team housed within a City Office. New Orleans has clear laws regarding a minimum living wage, 'Ban the Box' on job applications to prevent discrimination, and local hire rules that provide a minimum number of local workers that city contractors must employ. However, these ordinances lack enforcement and transparency about whether city contractors have fulfilled them. A healthy and supported workforce is central to public health and safety. It is imperative that New Orleans workers can file a complaint without fear of retaliation and that complaints are investigated to show residents that we value them and will protect them from abusive, illegal employer practices.
En los últimos meses, el Centro de Trabajadores ha llevado a cabo reuniones comunitarias para educar y discutir los fondos locales del Plan de Rescate Estadounidense disponibles para Nueva Orleans. Solicitamos ideas de los asistentes sobre cómo el dinero tendría el mayor impacto, tanto para apoyar a los trabajadores como a nuestros residentes más marginados y de bajos ingresos.
1. Fondo de Reconocimiento de Trabajadores Esenciales – $45 millones
Meta/Intención: Compartir fondos inmediatos significativos con trabajadores esenciales que merecen un pago premium por ponerse en peligro durante la pandemia. Las reglas para el gasto de ARPA mencionan explícitamente el pago de primas para trabajadores esenciales como uno de los únicos 4 usos elegibles.
2.Justicia lingüística / Acceso lingüístico: $ 6 millones durante 4 años
Meta/Intención: Que todos los residentes se sientan bienvenidos, entiendan completamente y participen efectivamente en los procedimientos, leyes, reuniones y el proceso democrático de su ciudad. Para aumentar la cantidad de personal bilingüe de la ciudad, fomentar la diversidad lingüística entre los trabajadores de la ciudad y educar a los trabajadores de la ciudad sobre la justicia lingüística y su importancia.
3.Iniciativa de cumplimiento laboral (plan piloto): $ 4 millones de 2023-2026
Meta/Intención: Hacer cumplir las ordenanzas existentes relacionadas con los contratistas de la ciudad y proteger a los trabajadores de la discriminación, la explotación y las represalias relacionadas con el trabajo con un equipo de investigación alojado en una oficina de la ciudad.
4. Fondos de acceso a recursos: $ 10 millones
Meta/Intención: Estabilizar las necesidades básicas del hogar, como los alimentos, ya que los bancos de alimentos a menudo se han visto abrumados por la cantidad de solicitudes desde el comienzo de la pandemia. Asegurar que el transporte público brinde un medio confiable y accesible para ir a trabajar y no cree una barrera para las oportunidades laborales para los residentes de bajos ingresos sin transporte personal.
Why is this important?
During the height of the COVID-19 pandemic, workers across the United States, across sectors and fields, were deemed by elected officials and governing bodies as "essential." These workers were grocery store clerks, farmers, delivery drivers, and health care professionals. They risked their lives every day to ensure that our city could continue to function.
New Orleans has received $388 Million in American Rescue Plan Dollars to aid in the economic recovery of our city and of the recovery of those who kept it afloat! Though this money was meant for the explicit economic recovery, there were little to no engagement opportunities for our elected officials to consider the needs and recommendations of those they have called "essential" for the past 2 1/2 years.
This money must be allocated with those most impacted by the COVID-19 pandemic centered in the decision-making process. So we are presenting our own Essential Worker proposal and need your help by endorsing it! // Durante el apogeo de la COVID-19, los funcionarios electos y los órganos de gobierno consideraron que los trabajadores de todos los sectores y campos de los Estados Unidos eran "esenciales". Estos trabajadores eran empleados de supermercados, granjeros, repartidores, profesionales de la salud y muchos más habitantes de Nueva Orleans que arriesgaron sus vidas todos los días para garantizar que nuestra ciudad pudiera seguir funcionando.
¡Nueva Orleans ha recibido $388 millones en dólares del Plan de rescate estadounidense para ayudar en la recuperación económica de nuestra ciudad y la recuperación de quienes la mantuvieron a flote! Aunque este dinero estaba destinado a la recuperación económica explícita, hubo pocas o ninguna oportunidad de participación para que nuestros funcionarios electos tomaran en consideración las necesidades y recomendaciones de aquellos a quienes han llamado "esenciales" durante los últimos dos años y medio.
Es imperativo que este dinero se asigne con los más afectados por la pandemia de COVID-19 centrados en el proceso de toma de decisiones. ¡Así que presentamos nuestra propia propuesta de Trabajador Esencial y necesitamos su ayuda para respaldarla!
How it will be delivered