To:

New York State Governor Kathy Hochul; New York State OASAS Commissioner Chinazo Cunningham
Stop Fueling the Overdose Epidemic!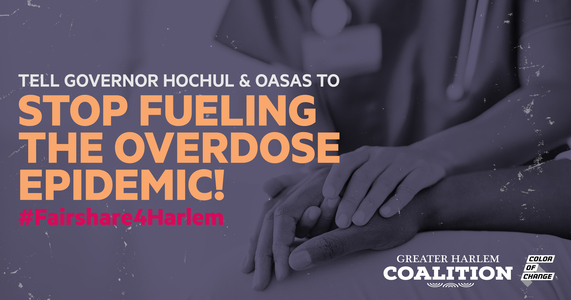 We are asking Governor Hochul and OASAS Commissioner Cunningham to commit to reducing the disproportionate density of addiction programs that have been located in communities of color like Harlem. We believe that a fair-share distribution of small-scale, effective, and holistic OASAS-licensed programs in all New York neighborhoods will lead to more effective outcomes and reduce overdose deaths. By leveraging the OASAS relicensing process and new opioid settlement funds, Governor Hochul and Commissioner Cunningham can geographically rebalance addiction support on an equitable and racially fair-share basis.
Currently, the imbalance in Harlem is such that 75% of the opioid treatment patients that OASAS sends to programs located in Harlem and East Harlem do not live in our community - traveling from as far away as Staten Island. While our community only accounts for 8% of all opioid treatment patients, OASAS sends 20% of all patients to Harlem every day. We are advocating for OASAS to decentralize the concentration of opioid centers in Harlem and commit to a data-driven and equitable approach that increases access to community-based programs that are small-scale, effective, and holistic.
Why is this important?
We ask OASAS to join us in fighting this imbalance for two key reasons. First, we know that when smaller scale, effective programs are more equitably located in all neighborhoods, drug treatment success will increase and stigma will decrease. Secondly, the decades long practice of packing treatment mega-centers in communities of color reinforces the false message that addiction is a Black issue that should be contained in Black neighborhoods. All New York communities need addiction treatment programs to help those in need and all New Yorkers suffering from addiction need local access to life-saving care.