To:

LA City Council
Resign Now! Demand LA Councilmembers Nury Martinez, G. Cedillo, Kevin de León Resign

LA CAN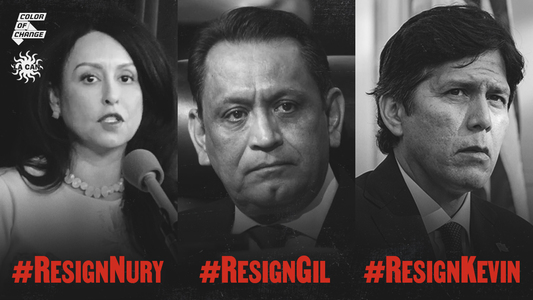 Over the weekend, we heard how LA City Councilmembers Nury Martinez, Gil Cedillo, and Kevin de León really feel about Black people. An anonymous Reddit account leaked audio of the three councilmembers making vile and reprehensible anti-Black comments, while discussing how to carve up LA's political districts. Council President Martinez referred to the Black toddler of fellow Councilmember Mike Bonin as "a little monkey," expressed a desire to give the child a "beatdown," and mocked LA County's District Attorney George Gascón for listening to his Black constituency.

Resigning from their post is just the first step that these City Councilmembers should take to be accountable to Black Angelenos. We also need tangible commitments from the rest of our City's government to ensure that the redistricting process is done fairly and without racial bias or self-serving political motivations that adversely affect LA's Black Angelenos and Black immigrants. The racist remarks that the three councilmembers made has exposed the anti-Black motivations that have always been at the center of LA City's political redistricting process -- a process that has deep migration, economic, health and safety impacts! Our people deserve policies that will actually protect them.
The City of Los Angeles owes Black people more than empty apologies and lip service in response. Every City Councilmember should join us in demanding the resignations of Councilmembers Martinez, Cedillo, and de Leon, so that we can continue the work of holding the City's government accountable for the ways its actions impact Black people.
Why is this important?
Black people in Los Angeles have been forced to bear the brunt of discriminatory, racist policies for far too long. In leaked audio recording, Council President Nury Martinez says of LA's District Attorney George Gascón, "F**k that guy, he's with the Blacks". With full knowledge that 76% of Black migrants in LA are deported due to contact with the criminal punishment system, these Council members blocked community-led efforts to create a City LA Justice Fund with universal representation. Instead they decided on a program that disproportionately harms Black immigrants with its racist criminal carveouts and refusal to include deportation defense services. And, this is only one example of the impact of these Councilmembers' anti-Black racism.
Recent studies show that Black Angelenos are more than twice as likely to be stopped and searched by law enforcement as their white counterparts. Our representative in government are supposed to hold systems accountable and ensure equity and fairness. That's why we can't allow this incident to go unchecked. Anti-Blackness must not be tolerated by any LA City or County official. We need leaders who challenge racism and champion our communities, not those who push dangerous narratives and anti-Black stereotypes about our families and loved ones. Until we ensure that elected officials like Martinez, Cedillo, and de Leon are held to account for their anti-Black beliefs and removed from office, they will continue to make decisions that place our communities directly in harm's way.